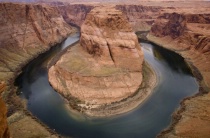 © Jim Miotke
All rights reserved
We are programmed to frown at an overcast sky. We crave the sun - sometimes we even equate happiness with a clear day.
In photography, an overcast day is generally thought of as a good thing - it provides a softer, diffused light and evens out contrast. However, a drab, white sky can pose a problem when photographing landscapes. I was presented with this issue in northern Arizona, where I took this shot. While I was pleased the way the sky illuminated the red rock in the canyons, the white clouds were an uninteresting and distracting part of the composition.
There were a couple of options for solving this problem. Using a graduated neutral-density filter will darken or add color to your sky. But in this case, I chose the second option - eliminating the sky altogether. In some cases, this can make a landscape look incomplete, but I found that taking it out helped bring focus to the beautiful color and patterns in the rocks and water below.