With the leaves turning as we speak, this is a great time to talk about photographing fall colors.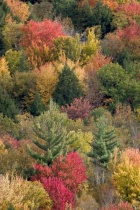 Fall Fairyland
© Jim Miotke
I was recently asked How do you get such beautiful, bold colors when photographing the fall foliage? She wanted to know if a polarizer helped.
Using a polarizer may help - as long as you are at a right angle to the path of the sun. Also, it works best when things are wet, or you are trying to cut out glare in the air (for bold blue skies). If you decide to try using a polarizer, you'll have to experiment to see if you can notice the effect.
I used a polarizer on the Devil's Den image below - but it was a slightly different kind, called a Blue / Gold Polarizer.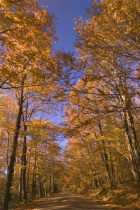 Devil's Den, Vermont
© Jim Miotke
However, more than a polarizer, the thing that will really help you get strong colors is to shoot on a bright, overcast day. Ironically, these overcast conditions often work better and allow your camera to really soak in the colors.
Sidenote: The trees were leaning in together because I was under them on a country road in Vermont. However, the effect was accentuated because I was using a super wide 16mm lens. This is a super fun lens for landscapes (and a million other kinds of photography) and I highly recommend it.
So look for bright but diffused light instead of strong direct light. That will play the biggest part in how much success you have getting good results photographing fall foliage.
Have fun photographing the fall colors!

Red Maple Leaf in H2O
© Jim Miotke